Books Authored by Noland Adams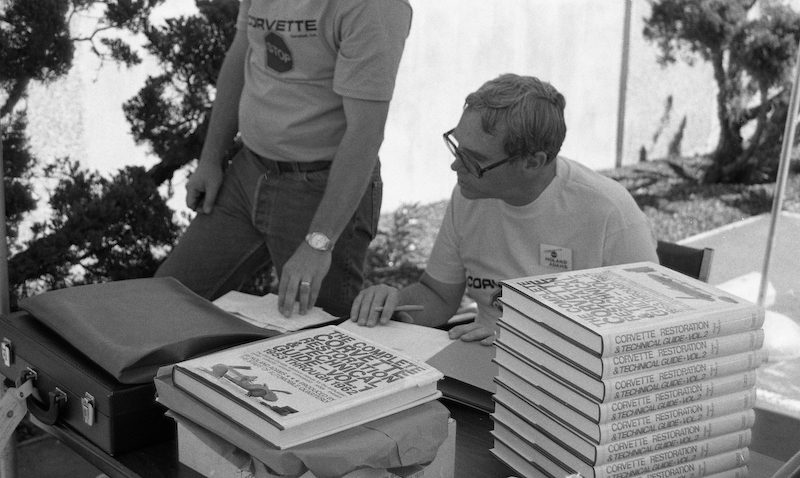 Noland Adams Hard at Work - Selling Books Circa 1988




Noland purchased his first Corvette (a 54) in 1955. Shortly thereafter, Noland wrecked the 1954 car and purchased his 1953 #284 Corvette. A few years later, Noland purchased a wrecked 57 and rebuilt it. Noland sold the 53 Corvette, but still remained interested in Corvettes. A conversation with Ed Thiebaud in 1969 triggered Noland's desire to find his old 53 Corvette, which he did. 53 #284 was in sad shape when Noland located the car. But Noland repurchased his old car, which needed a complete restoration. The restoration would wait decades. Post-restoration, 1953 #284 would be one of the most well-recognized Corvettes in history - Noland's 53 was used as the model for a US Postage Stamp.
The chance call with Ed Thiebaud ultimately did more than to trigger Noland's desire to find his old 53 Corvette. The call started Noland down a path of what would be a lifetime endeavor - a life devoted to learning about early Corvettes and sharing that knowledge with others. This path would land Noland a spot in the Corvette Hall of Fame, where Noland joins 33 others who made the Corvette famous (like Zora Duntov, John Fitch, Harley Earl, Ed Cole, and Chip Miller) I found a nice website that describes Noland's path from the call with Ed Thiebaud to the Corvette Hall of Fame - Click Here.
Noland has published 7 books - 2 Restoration Guides and 5 C1 Picture Books. GM provided Noland with much of the information published in these books. Noland has some books left, so please contact Noland if you would like to buy a book. I own a complete set, and believe that anybody interested in the history or restoration of early Corvettes should own a complete set as well. I used several of the books extensively during the restoration of my 54, for example. The lack of pictures in the NCRS Judging Guides means that you have to find pictures of how things should look elsewhere.
But here is the main reason why you should buy these books - These books are great. Tons of pictures, and plenty of commentary to tell you what you are seeing. These books are full of GM and personal photos that you probably have not seen before.
Noland is always happy to autograph the books, and will include a personal note if he has some information (year of Corvette, restored or in pieces, etc.).
Noland Adams (530) 626-3232
Noland's C1 and C2 Restoration Guides - $75 Each ($70 plus $5 for shipping)
| | |
| --- | --- |
| | |
| First published in 1980, this book quickly became the single most important resource for restorers of C1's. Noland unique access to GM's archives, especially the photographic library, was of immense value to the hobby. | Published in 1988, this book mirrors the approach taken in the C1 Restoration Guide. A must have book for anybody interested in C2s. |
The American Legend Series - Great GM Photos With Commentary by Noland - A Bargain at $19 Each ($15 plus $4 for shipping)